Locale
We thought things were bad when the buffets shut down. Unfortunately, as Las Vegas remains on lockdown due to COVID-19, our city's great restaurants continue to keep their dining rooms closed while relying on takeout and delivery orders to bring in any sort of revenue. In most cases, their very existence depends on it. We're in this together, so if you crave something beyond cereal and frozen dinners, make a point to support our local restaurants, using the following updated list as a starting point. Keep in mind — hours, operations, and menus can change by the day, so contact each restaurant directly for the latest information. It's a tough time right now. You need food, they need money, and we're all trying to avoid each other. Let's eat!
Henderson & Summerlin
Ribs, brisket, pulled pork, chicken, tri-tip… it's all here. Get your Big B's Texas BBQ fix with two different locations in opposite ends of the valley. Feel free to customize your own family-style packages. Pick everything up yourself or have it delivered by Grubhub.Southwest
The southwest valley restaurant is continuing to serve up modern Vietnamese fusion with a modified menu that includes bao bun sandwiches (with your choice of hot chicken, tempura snapper, or short rib), a grass-fed ribeye steak sandwich, cavatelli in a creamy dan dan sauce, and more. Curbside takeout is Tuesday-Sunday 1-8pm.Downtown
Bronze Cafe near Buffalo and Smoke Ranch aims to please, with a wide variety of sandwiches, soups, desserts and more — often prepared on the healthier side with a focus on quality ingredients. The vegan choices are especially good. Stop by for pickup 10am-7pm or order for delivery. Specials are regularly posted on Facebook.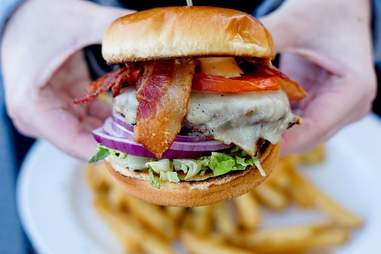 Downtown TerraceDowntown
The brunch spot at the Downtown Container Park has monkey bread, french toast, burgers, and other dishes for delivery 11am-8pm. You can also arrange curbside pickup through the DTLV smartphone app. Now that booze is allowed for delivery, Downtown Terrace has "bottomless" to-go mimosas (2 bottles of sparkling wine with orange juice) and Bloody Marys (a bottle of Smirnoff and Bloody Mary mix). Each option is $20.
Echo & RigTivoli Village
Chef Sam Marvin is keeping his in-house butcher shop open for select cuts to take home 10am-4pm daily (except Sundays). Meanwhile, the restaurant has a special limited carry-out menu that on any given day can include beef stroganoff, chicken chilli, BBQ tri-tip, and more. Wine and make-your-own cocktails are available to-go, as well.Southwest
This brand new restaurant specializes in breakfast sandwiches and the full menu, which also includes sweets and coffee, is available for curbside pickup from 7am to 3:30pm. In the wake of school closures, a kids meal (for youngsters K-12) is discounted to $4.99 with a choice of four sammies, crispy smashed taters, and juice.Tivoli Village
Evel Pie temporarily closed its Fremont Street pizzeria during the pandemic, but is now returning in pop-up form. The operation is running out of Ada's in Tivoli Village Tuesdays-Saturdays 4-8pm with a limited menu, beer, and wine for pickup or delivery.Downtown
Garagiste is a new wine bar in the Arts District with an in-house retail shop, making it easy to stock up on rare and interesting vino during the Nevada lockdown. Browse the latest selection and place an email order while arranging a payment via Venmo. Curbside pickup is Thursday-Sunday 2-7pm with deliveries on Thursdays and Fridays. Join the wine club and receive 5% off half-a-case (6 bottles) or 10% off a full case (12 bottles) through May.
Graffiti Bao | Courtesy of Rob KachelriessSouthwest
The Asian food of Marc Marone takes equal inspiration from Singapore hawker markets and classic New York Chinese joints. In other words, it's perfect for takeout — especially if you throw in some bao buns. Beyond that, Graffiti Bao is doing its best to help by giving out free kids meals, taking 10% off curbside pickup, and offering a 30% industry discount. Delivery can be arranged with Postmates.Multiple locations
You can never have too much pizza while in quarantine. Gramaldi's in Boca Park, Green Valley, and the Southwest (Rainbow & Warm Springs) has a couple of meal deals to get you through this challenging time. Pay $25 for an 18-inch cheese pizza with a house or Caesar salad with two fountain drinks or pay $40 for two 18-inch cheese pizzas with a large house or caesar salad with four fountain drinks. Bottles of wine are half-off for carry out.Chinatown
This Korean BBQ spot usually grills meat tableside, but you can enjoy Honey Pig's food at home with delivery by Uber Eats. It's not quite the same experience, but you can still feast on spicy BBQ pork and kimchi stew. Summerlin
A new all-day menu features fresh takes on modern American cuisine with curbside pickup or delivery. Stick to individual entrees or go big with family-style takeaway meals for four with either meatloaf, roasted chicken, fried chicken, braised short rib, pork, or pasta as the main course.
Courtesy of Ike's Love & SandwichesOff the Strip
Ike's packs a lot of ingredients in one sandwich, whether it's vegan, gluten-free, or loaded with meat. Get free delivery when ordering through the company's own app. Need more incentive? Kids get a $5 sandwich when parents order one of their own, delivery drivers are given a special card to redeem $7 sandwiches all month long (limit four per visit), and a special themed sandwich is $5 every Friday with the purchase of a regular sandwich.
Advertisement
Uber Eats
Your brunch, dinner, and late-night cravings haven't changed just because you're staying safe indoors. Fortunately you can still get all of your favorite dishes delivered right to your door, while also supporting the restaurant industry that has given you so many meals and memories. Uber Eats is making it possible for you to give directly to your favorite restaurants at checkout, and 100% of contributions go directly to the restaurants. You can also eat, save, and support local restaurants with a one-month free trial of their Eats Pass. Uber will give $1 to the Restaurant Employee Relief Fund for every new Eats Pass subscriber. See app for details.
Courtesy of Insomnia CookiesValley-Wide
If you're craving chocolate chips and a sugar fix, Insomnia delivers fresh-baked cookies between 11am and 2:45am — and the best part is, they arrive warm. You can also order brownies, cookie cakes, and "cookiewiches" with a giant chunk of ice cream in the middle. Insomnia will even deliver a cold glass of milk to wash it all down. Henderson
The breakfast and lunch spot has curbside pickup Wednesday-Saturday 10am-2pm. Kids 12 and under eat free (including pancakes, waffles, and eggs with potatoes and pancakes) with a limit of two per household. More delivery discounts: first responders receive 50% off, industry professionals receive 15% off, and anyone paying cash gets 10% off. The same deals apply to sister restaurant Kitchen Table Squared at the Gramercy near SummerlinWestside
The European-style bakery and cafe has all sorts of pastries, breakfast dishes, desserts, and coffee for pick-up with a free order of bread included on orders of $35 and up. If you need a pie while in quarantine, this is the place to call.Summerlin
La Strega is back open for takeout only, from Wednesday-Saturday, with a limited food menu that includes beer, wine, and Italian sodas. Ask about the family meal for four, which changes by the week, or the Aperol Spritz kit — good for 6-8 cocktails.Chinatown
The Thai restaurant is doing takeout and in-house delivery. The full menu is available to go, with the exception of raw items like oysters and steak tartare.
Lawry's The Prime Rib, Las VegasOff the Strip
Lawry's now has curbside pickup Tuesday-Sunday, 4:30-8pm with 20% off (plus 50% off the beer and wine list). That's some good incentive for eating prime rib at home.Mountain's Edge
One of the best new restaurants of 2019 remains open for pickup, Wednesday-Friday 3:30-7:30pm and Saturday-Sunday noon-7:30pm. The menu changes weekly, but usually includes pizzas, pastas, salads, and Italian favorites like eggplant parmesan. Family meals are $50 and serve 4-6 people. An in-house market sells in-demand household items like eggs and toilet paper (plus true essentials like beer and wine). Check for the latest updates on Facebook.Desert Shores
The French bistro remains open daily 11am-6pm, serving cheese and charcuterie platters with the option to include some awesome wine from the restaurant's retail shop. Even better — free wine delivery is available within a 10-mile radius with a $50 minimum. Marche Bacchus also has gift cards available online.Centennial Hills
Market Grille Cafe is a wonderful family-owned restaurant in the northwest valley that mixes Italian and Mediterranean cuisine on the same menu. Pickup and delivery is available seven days a week, 11am-8pm, with bottles of wine 50% off.Multiple locations
One of our favorite pizza joints in Vegas has enough locations to keep the entire valley fed throughout this lockdown. Choose curbside pickup or contactless delivery. Check Facebook for the latest deals.Multiple locations
This awesome local roaster has coffee and tea for pickup and delivery from its Henderson and Downtown locations. Get your fill of pastries and other bites from affiliated Sunrise Coffee. Buy a bag of coffee beans for a first responder and receive a free cup of coffee.Summerlin and Downtown
The local chain built its reputation on gourmet nachos, but has a full menu that includes modern takes on tacos, burritos, fajitas, burgers, and a surprisingly strong vegan selection. Go with curbside pickup or delivery at its Downtown and Summerlin locations. "Margarita survival kits" are $30 and $60, depending on how much booze you need.Summerlin
Pizzas, pastas, chicken parm, and other Italian bites can be ordered with DoorDash. A "family kit" serves 4-5 people for $65 with a large caesar salad, parmesan garlic bread, and tagliatelle, bucatini, rigatoni, or strozzapreti with choice of sauce. No matter what you do, add the spiced orange pistachio cake for dessert.Chinatown
If you miss French fine dining while in self-isolation, Partage is here to help. The restaurant is serving up inventive dishes for lunch and dinner six days a week with delivery available on Tuesday, Thursday, and Saturday. Pay $60 per day for lunch and dinner when you order two days. You can also pay $340 for the whole week. Wine pairings are available and delivery is free. New menus are revealed each Monday. Email Partage to place an order.
Courtesy of Pinkbox DoughnutsMultiple Locations
Sometimes you just need a doughnut, day or night. Pinkbox has three locations open 24 hours a day, every day, for pickup or delivery via Postmates. Make sure your box includes a Flaming Red Head doughnut, topped with Flaming Hot Cheetos.
PizzaokiValley-Wide
DJ and Las Vegas resident Steve Aoki now has his own delivery-only pizza joint. Pizzaoki has 10 different pizzas to choose from with a choice of "lit herb-infused" crust or healthy, low-carb cauliflower crust. Each pie is 12 or 18 inches. Multiple locations
When your immune system is most at risk, you may want to stick with food from some of the best restaurants for healthy dining in Las Vegas. Proteinhouse has takeout and delivery from 10am-8pm for acai bowls, protein shakes, and fresh juices. Get a free 16-ounce immunity juice with an order of $20 and up. Earn 25% off when placing a takeout order directly through the Proteinhouse website with the code PH25.Desert Shores
Awesome soups, salads, and other dishes by Sonia El-Nawal are available for takeout with an in-house pantry of kitchen supplies for sale at fair prices. Check in on Facebook for regular menu updates. Summerlin
Get your hands on some of the most photogenic doughnuts and beignets in all of Las Vegas. Pre-orders are being taken for weekends and other select days. (Keep your eyes peeled on Facebook and Instagram.) Saint Honore is also collaborating with sister restaurant Cafe Lola for couture gift boxes for pickup or delivery anytime.Boca Park 
In times like these, good coffee is even more important than toilet paper. Sambalatte has some of the most extensive coffee sourcing in Vegas, with an especially strong focus on South American beans. Coffee and pastries are available for curbside delivery 7am-4pm. There's a small in-house market for groceries and free muffins with a coffee purchase. Takeout orders are also available at the Jones & 214 location via the drive-thru window.Multiple locations
Order pizzas, salads, and tapas for pickup or have them delivered every day between 11:30am-8pm daily.Multiple locations
The locals' favorite has five locations throughout the Vegas Valley with delivery by DoorDash. Choose between "healthy" and "happy" dishes on the menu, which range from burgers and fries to tacos and specialty bowls. Get a heavy dose of vitamins with one of three juice blends. Pickup is also available — and the Stephanie location has a drive-thru window to make things even easier.Westside
Shiraz was one of the first restaurants in Las Vegas to launch delivery after COVID-19 panic hit Las Vegas. However, the restaurant has since made the tough decision to close. Meanwhile, Chef Jainine Jaffer is moving forward with custom healthy meal prep services, available by calling 310-612-2945 and paying by PayPal, Venmo, or Zelle. New menus are revealed every Friday for the following week. Pick up the meals at Shiraz or arrange delivery. Henderson & Summerlin
If you gotta eat, you gotta drink. Solus Sustainable Hydration is a local company that brings spring water to Anthem, Inspirada, Green Valley and Summerlin in reusable glass bottles — delivering and retrieving them milkman-style. That means you get a crate of 10 one-liter bottles for $29.95 and an ultra-low carbon footprint. Still or sparkling — it's your choice. Multiple locations
Stephano's has three locations — on Ft. Apache, Eastern, and Maryland Parkway — for quick and casual Greek and Mediteranean food. Delivery charges begin at $10, but the restaurants have always been ultra-efficient with pickup orders. Order through Stephano's app for iPhone or Android and get $5 off your first purchase.
TRES CazuelasWestside
This inventive restaurant has discounted weekly menus of artisanal Latin cuisine with free delivery. The six-day package is $90 per person with a choice of appetizer and entree for each meal. It could be the best value in Vegas while in lockdown.Southwest
Here's a fun way to shake up the morning routine. Valencian Gold, which closed for renovations before the words "Vegas Shutdown" became a thing, is using the downtime to shift away from its signature paella and bake fresh New York-style bagels. They're available in plain, everything, sesame, and egg from 9am to 2pm daily — or until the bagels run out. Each one is $2.50 with spreads like Amish butter or scallion cream cheese a dollar extra. Call 702.776.7707 or email the restaurant to place an order. Pass the delicious-ness forward by ordering a dozen bagels with two spreads for $26 to be donated to first responders the following day. Downtown
If you're looking to social-distance yourself from animal products, the plant-based menu at VegeNation Downtown is available for takeout or delivery via Postmates, Uber Eats, Grubhub, Ezcater, and DoorDash 11am-8pm. Unfortunately, the Henderson location will remain closed for the time being.
Courtesy of Wing SquadValley-Wide
Miss chowing down on chicken wings at one of the top sports bars in Vegas? This could be the next best thing. Wing Squad is a delivery-only restaurant that specializes in wings with five different sauces representing different spice levels. They come in orders of six, 12, or 18. Feel free to throw in a salad, mac n' cheese, or a couple cookies for dessert.    Downtown Summerlin
The sports-focused dining spot formerly known as the Wolfgang Puck Bar & Grill has updated its hours to 2-8pm with an evolving takeout menu that can include anything and everything from barbeque to fresh Mediterranean. Just like in sports, you go big or go home. Visit the restaurant's Instagram feed for the latest information. 
Sign up here for our daily Vegas email and be the first to get all the food/drink/fun in town.
Rob Kachelriess has been writing about Las Vegas in Thrillist for more than six years. His work has also appeared in Travel + Leisure, Modern Luxury, Leafly, and Luxury Estates International's seasonal publication. He's ready to eat his way through Vegas, one delivery order at a time. Follow him on Twitter @rkachelriess.