Giving is more important than ever this year.
Photo by Jeff Scheid for Three Square Food Bank
It's not an easy holiday season in Las Vegas. As a tourist-based city, we've been hit hard by the COVID-19 pandemic, a decline in travel, and a temporary shutdown that left the Strip looking like a ghost town this past spring. Charity efforts are especially important this year, and while social distancing continues to be an important factor in curbing the spread of the virus, there are many ways to help the local community. Share a little of your time or resources as Las Vegas works its way back to being not only a hot destination for visitors, but a home we can all share. Here's how to help: 
Help conquer homelessness
Homelessness is a problem that affects families and children throughout Las Vegas. HELP of Southern Nevada is seeing its resources stretched to the limit. So take part in a different kind of holiday shopping this season and cover a few items on the Amazon Wish List for the organization's Shannon West Homeless Youth Center. Items range from pencils and paper plates to clothes and bedsheets. HELP of Southern Nevada's most high-profile annual fundraiser is the 98.5 KLUC Toy Drive, in which the awesome Chet Buchanan camps out on top of a 30-foot scaffold for 11 days, encouraging donations to help families celebrate the holidays.  
The Nevada Partnership for Homeless Youth can also use your assistance this holiday season. Volunteer efforts include mentoring, cooking, restocking donation items, and much more. Reach out via email for the latest information.  
Share Village was originally founded as Veterans Village with a focus on helping struggling former service members. The mission expanded over the years and now includes two campuses where those in need can find assistance with housing, food, and job-seeking. Volunteers are needed for a variety of services, including help with a daily food pantry and a holiday season project to renovate a senior citizen's home.
Photo by Jeff Scheid for Three Square Food Bank
Help feed the hungry
Not having enough food is a problem that not only affects the homeless, but families across the Las Vegas Valley. Three Square is the largest food bank in Southern Nevada, coordinating distribution efforts with Catholic Charities, Salvation Army, Las Vegas Rescue Mission, TCMI Church, and dozens of others. Three Square runs a top-flight operation at its North Las Vegas warehouse, stretching every dollar in donations to cover six meals. Volunteers are always welcome to help pack food deliveries and meals for students, although strict guidelines are in place to limit the spread of COVID-19. If you wish to organize a donation drive or contribute food or supplies, please contact Three Square directly first. The organization's annual Holiday Match Challenge is underway with donations doubled by participating sponsors. 
Catholic Charities is currently suspending in-person volunteer efforts, but is encouraging donations to help with its 34th annual turkey drive and participation in remote services like youth mentoring, holiday gift packages, and winter accessory knitting. 
A newer effort is Delivering with Dignity, born this year in response to the coronavirus crisis. Local chefs and restaurateurs from great Las Vegas restaurants like Honey Salt, Graffiti Bao, Valencian Gold, and the Jolt Coffee Co. have rallied around the cause, which not only helps those down on their luck, but keeps restaurant employees working. Volunteer to be a part of the Food Hero team that delivers an average of 6,500 meals a week in Las Vegas. Monetary donations are being accepted too.   
The United Way of Southern Nevada is looking for volunteers to help with its Operation Thanksgiving initiative. You can also donate money directly or contribute holiday food or supplies.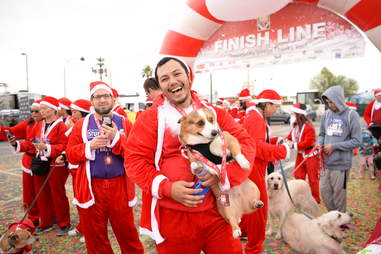 Photo courtesy of Las Vegas Great Santa Run
Help the disabled overcome challenges
Opportunity Village is one of the most inspiring success stories in Las Vegas. The family-founded organization helps adults with disabilities find employment and personal fulfilment. One of its biggest annual fundraisers, the Magical Forest winter park, was suspended this year due to the pandemic. However, you can still give, shop, and volunteer. Another annual fundraiser, the Las Vegas Great Santa Run, traditionally has crowds of people running down Fremont Street in Santa outfits. This year, the event is going virtual. Just participate on your own time between December 5 and December 26. You can even get your pet involved.
New Vista is another nonprofit that helps people with intellectual and developmental disabilities. The organization is known for its beer and wine walk fundraisers, which are on hold right now. Check in with the volunteer department for the latest opportunities to help. 
One of the most rewarding ways to donate your time in Las Vegas is through the Nevada chapter of Best Buddies. The group arranges one-on-one mentorships and friendships between volunteers and people with disabilities. In recent months, virtual volunteering was introduced, allowing participants to become an e-buddy. You can also donate, shop, or join a Friendship Walk scheduled for early next year.
Photo courtesy of Serving Our Kids
Help children shape a brighter future 
St. Jude's Ranch for Children provides a caring environment for children and young adults (up to age 25) who are homeless, at-risk, and/or victims of abuse. Volunteers are always needed to work on the 40-acre ranch, including the thrift store, mail room, and donation sorting stations. Join the Red Heart Giving Society and commit to a monthly donation of your choice. As a bonus perk: Egg Sammie will give a free breakfast sammie, side of smashed taters, and a coffee to anyone who comes in within a week of signing up for the program.  
Communities in Schools of Nevada is dedicated to keeping dropout rates low and graduation rates high. Be a part of the Today for Tomorrow fundraiser to help coordinators bring on-site guidance and mentorships to more than 75,000 students in 75 schools. 
Spread the World Nevada encourages literacy among youngsters with the distribution of books and in-person reading sessions. Volunteerism is currently on hold due to the pandemic, but fill out an application to be notified about future plans. 
Serving Our Kids puts together weekend meals for young students in low-income families. Volunteers are welcome. The organization also needs food donations, monetary donations, and child sponsorships as well. You can also purchase a Crisis Pack, filled with food items to get a student through a weekend. 
Help underserved communities
The Center is a pivotal resource and space of inclusion for the LGBTQ community. Volunteer  to help with events and programs. The Center is providing a drive-thru Thanksgiving Day meal for seniors, prepared by some of the best chefs in Las Vegas. Food is picked up 1-5 pm followed by a drive-in movie at 5:30 pm. Email the organization to learn more.  
The Black Community Organizations Network (BCON) celebrates African-American heritage, welcoming volunteers for efforts focused on students, including scholarships and graduations. Donations are accepted, but contact the organization about the best way to help. 
The Nevada Minority Health & Equity Coalition is drawing awareness to the problem that minority communities are disproportionately affected by health conditions and inadequate care. Make a donation, participate in the latest projects, or submit your own testimonial about COVID-19 for a social media campaign.  
Before the Vegas Strip or the Hoover Dam was even a thought in someone's mind, the Indigenous people of Nevada made Southern Nevada their home. The Las Vegas Indian Center provides services for those with Native American heritage. Donate or contact the organization about how you can get involved.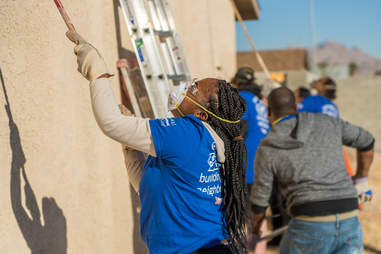 Photo courtesy of Rebuilding Together
Help provide a roof to those who need a home
Habitat for Humanity Las Vegas builds homes for low-income families at zero-interest mortgage rates. Volunteer efforts are currently suspended, but are expected to pick up next year. In the meantime, make a donation or help the bottom line by shopping at one of two ReStore locations in Las Vegas. 
Rebuilding Together provides home repairs at no cost to those in need, especially seniors, veterans, and people with disabilities. The services were crucial during the shutdown earlier this year. Help out with a donation or sign up to be a volunteer, No job is too small. Local businesses are also encouraged to sponsor projects.
Help the entertainment community make a difference
Mondays Dark is a fantastic example of Las Vegas entertainers joining together for the greater good. Organized by local performer Mark Shunock, Mondays Dark is a bi-weekly variety show (on Monday nights, when shows often go "dark" with a night off) of local singers, dancers, musicians, comedians, actors, and others donating their time and talent to raise a goal of $10,000 for a different cause each time around. This year, Mondays Dark has shifted focus to a virtual online format with performances still taking place at The Space off the Strip. Support the effort by taking part in the annual December anniversary celebration, which is traditionally the biggest event of the year and when charity partners for the following year are announced. A limited number of people will be allowed inside with spaced-out seating, but the event can be viewed online, while placing auction bids (by texting MDLV to 76278). You can also take part in a virtual 5K through the end of November.      
The Tyler Robinson Foundation was founded by Las Vegas' own Imagine Dragons in honor of a young fan who passed away from a rare form of cancer. The nonprofit raises money to help those suffering from pediatric cancer and other life-threatening conditions. Volunteer for various causes and events, including a toy distribution event with a socially distant meet-and-greet with Santa at Floyd Lamb Park 4-6 pm on December 18. Items to be handed out can be purchased from a virtual wish list.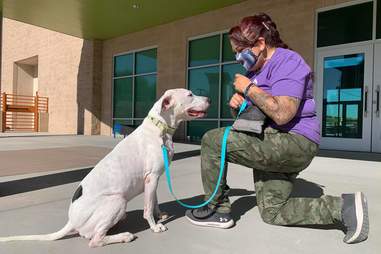 The Animal Foundation
Help Las Vegas animals live a better life
The Animal Foundation is the largest animal shelter in Las Vegas, saving more than 20,000 dogs, cats, and other furry friends each year. The organization isn't currently accepting volunteers, but you can check in on the 15th of each month, when updates will be posted. If you can't adopt, apply to foster a pet for a short-term period.  
Other pet-friendly organizations that could use your help include the Nevada Society for the Prevention of Cruelty to Animals, Heaven Can Wait Animal Society, Those Left Behind Foundation, A Home for Spot Animal Rescue, and Southern Nevada Beagle Rescue Foundation, which helps beagles used in lab testing (due to their docile demeanor) acclimate to a proper, deserving life. Check with any of these organizations about volunteering, donations, or adoption, fostering, and sponsorship opportunities. 
If you prefer something a little more grand in scale, there's always the Lion Habitat Ranch, home to dozens of lions and other big animals in Henderson. Sponsor a lion for $8-10k or spend a little less and purchase a painting by Ozzie the giraffe for $40 (custom pieces go for $100). Proceeds are directed toward the care and feeding of the animals on property.  
Help others dress for health and success
The Las Vegas Fashion Council has put together a Mask Task Force, bringing designers and wardrobe professionals together with volunteers to provide masks for first responders, healthcare workers, grocery store employees, charities, and others on the frontlines. Volunteer to help create masks or distribute them. Or simply buy one for yourself. 
The Southern Nevada affiliate of Dress for Success provides new clothes, networking, and career development tools for lower-income women on the job hunt. Fifty bucks could cover an outfit for a day, while $250 covers a week. So donate clothing or money if you can. Volunteers fill the roles of boutique assistants, image consultants, and more.  
The American Cancer Society of Nevada is launching Handbags for Hope. Local benefactors and businesses are being asked to donate a designer handbag (worth $500 or more) for an online auction. Money raised will go to the fight against cancer. Email to learn more. 
The Goodie Two Shoes Foundation has a simple mission that lives up to its name: provide disadvantaged kids with shoes and socks. Volunteers are always needed for distribution events, which traditionally happen two to four times a month. 
Help keep women and children safe
The Shade Tree provides shelter and resources to women, children, and pets leaving abusive relationships—a step that's sometimes harder to take during the cold winter season. Volunteers are especially needed to help children with online learning right now. While the shelter has received lots of donations to cover holiday gifts for the kids, items for adult women are more desperately needed. Check in with The Shade Tree and see where help is currently being sought.  
SafeNest helps victims of domestic violence with shelter, counseling, and other resources, including a 24/7 crisis hotline (702-646-4981). All services are confidential. Volunteer your time or ask SafeNest about the donations needed most.  
No matter what happens in this crazy world, feminine hygiene products will always be in need. Project Marilyn helps offset "period poverty" by encouraging sponsors to donate $10 a month. Volunteers are also needed to pack bags and distribute products to those who can use them.  
Continue to help and support beyond the holiday season
Most charitable giving happens in the last two months of the year, but there's still more work to do. The 10 Month Project is a local effort to rally small businesses and continue the spirit of giving during the other ten months of the year, when donations and volunteer services are sparse. So feel free to contribute your time as much as you can to all of the organizations included in this story—not just now, but in the weeks and months ahead. Our community will need the support as we head into 2021. 
Sign up here for our daily Vegas email and be the first to get all the food/drink/fun in town.
Rob Kachelriess has been writing about Las Vegas in Thrillist for more than seven years. His work has also appeared in Travel + Leisure, Trivago Magazine, Sophisticated Living, Modern Luxury, Leafly, Las Vegas Magazine, and other publications. Follow him on Twitter @rkachelriess.