Want to get information on the hottest local spots in Las Vegas?
We took a data-driven look at the question and used Yelp to find out which restaurants saw notable increases this month.
To see who made the list, we looked at Las Vegas businesses by category on Yelp and counted the number of reviews they received. Instead of just comparing them based on the number of reviews, we calculated a percentage increase in reviews over the past month and tracked companies that have continuously increased their review volume to identify statistically significant outliers compared to past performance.
Read on to see which areas are particularly hot right now.
Saigon baguette
Photo: Saigon Baguette / Yelp
Open since May 15th, this Vietnamese place sells sandwiches and more, is trending compared to other companies listed as "Sandwiches" on Yelp.
In the metropolitan areas, sandwich spots saw their new reviews increase by 2.2% on average last month. Saigon Baguette appeared on Yelp just recently, but while many new businesses are struggling to get reviews, it has seen strong initial popularity.
Would you like to learn more about the company's specialties?
"We warmly welcome you to try authentic banh mi sandwiches. Our baguettes are handcrafted daily with no added preservatives. Vincent, our chef, has been refining his craft for over 20 years. This family business looks forward to serving you and." Your family, "says the Yelp page.
The Saigon Baguette is located at 5845 Spring Mountain Road, Suite 15, in Spring Valley and offers a variety of banh-mi sandwiches as well as barbecue pork rolls, egg rolls and patê sô. It also serves Vietnamese coffee.
The Saigon Baguette is open every day except Wednesdays from 9 a.m. to 5 p.m.
Cousins ​​NY Pizza & Pasta
Photo: Cousins ​​ny Pizza & Pasta / Yelp
Whether or not you've heard of Spring Valley's Cousins ​​NY Pizza & Pasta, the restaurant is a hot topic according to Yelp review data.
While companies rated "Pizza" on Yelp saw their new reviews rise an average of 1.8% over the past month, Cousins ​​NY Pizza & Pasta appeared on Yelp relatively recently. Many new businesses are struggling to get reviews, but interest has increased.
Cousins ​​NY Pizza & Pasta has been open at 9773 W. Flamingo Road since early May and offers more than a dozen types of pizzas, including pepperoni, grilled chicken, and white / four-cheese pizza. Chicken wings, calzones, pasta dishes, salads, and sandwiches are also on the menu.
Cousins ​​NY Pizza & Pasta is open Monday through Thursday and Sunday from 11:30 a.m. to 9:00 p.m. and Friday and Saturday from 11:30 a.m. to 10:00 p.m.
Jing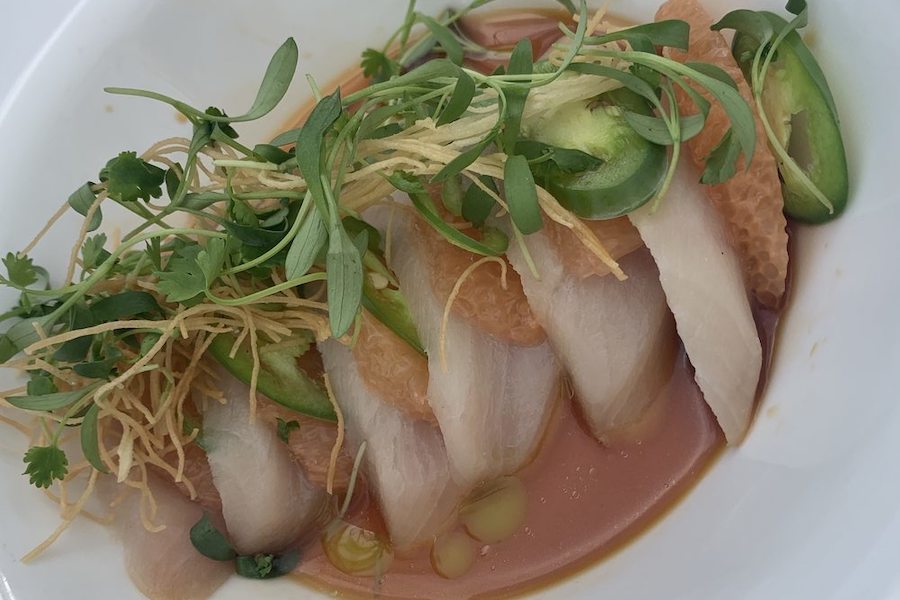 Photo: Dyanna L./Yelp
The jing in downtown Summerlin is also making waves. The global Asian restaurant, which has been open at 10975 Oval Park Drive, Suite 100, since February, saw new ratings increase by 28.9% last month, compared with an average rating increase of 0.8% for all businesses marked "Steakhouses" on Yelp. In addition, the number of reviews of Jing increased more than 730% from month to month.
Curious about this business? We found this in the Yelp story: "For over a decade, Jing has been one of the most iconic and top-rated restaurants in Denver. Jing is known in Colorado for its exceptional cuisine. The fire and water in Jing make perfect chi for that best dining experience.
"Jings Menu offers Asian fusion with a touch of global cuisine, from sushi to steaks, using products from local and organic farms. We offer a comprehensive selection of international wines, sake, craft beers and spirits, perfectly prepared by our certified sommeliers were put together couple with your meal. "
Last month, the outlet in Summerlin lowered its Yelp rating from 4.5 to four stars.
Jing is open daily from 3pm to 2am.
Wolfgang Puck Players Locker
Photo: Wolfgang Pucks player locker / Yelp
Also in Downtown Summerlin is Wolfgang Puck Players Locker, a franchise company of the well-known chain, currently on the upswing in the traditional American category on Yelp.
While companies rated "American (Traditional)" on Yelp saw their new ratings increase an average of 1% last month, this sports bar, cocktail bar, and traditional American spot increased their new ratings by 26.2% – and kept their rating constant 3.5 stars. The number of reviews increased by more than 140% from month to month.
Wolfgang Puck Players Locker has been open at 10955 Oval Park Drive since January and is dedicated to the Vegas Golden Knights hockey team. Menu items named after players include Tuch's Reuben sandwich, Karlsson's vegan burger, and Deryks fish and chips.
The Wolfgang Puck Players Locker is open Mondays to Thursdays from 11:30 a.m. to 9:00 p.m., Fridays and Saturdays from 11:30 a.m. to 10:00 p.m. and Sundays from 11:00 a.m. to 9:00 p.m.
This story was created automatically using local business data and then reviewed and expanded by an editor. Click here to learn more about what we do. Do you have thoughts Here you can share your feedback.